About us and Meet the Team
Wormcount.com Veterinary Laboratory
Wormcount.com is an internationally renowned specialist diagnostic veterinary laboratory. Our expertise is in faecal screening for pathogenic and non-pathogenic internal parasites.
Our reputation has been built on hundreds of word of mouth recommendations for being cost-effective, fast, friendly, highly reliable and professional. Clients who use us once come back – again and again.
We know from the great feedback from our clients that the most important aspect of our first class service is excellent communication. Our experienced and dedicated team is always happy to discuss any aspect of your animal's worm count and results.
Our clients and their animals really matter to us. As animal owners ourselves we know how much part of the family they become, and therefore how important they are.
Our Animal Health Advisers, registered with the Animal Medicines Training and Regulatory Authority (AMTRA), will also discuss appropriate remedial action for your animal. It is all part of our service for you.
Michaela Murray ESQP, MBSP, MRMS
Laboratory Director and Senior Analyst
Michaela is our Laboratory Director and Senior Analyst. She is qualified and registered by the Veterinary Medicines Directorate to prescribe and advise on Veterinary medicines within the legal categories of NFA-VPS and POM-VPS for companion animals and equines. She is a member of the British Society for Parasitologists, the Royal Microscopical Society and a registered Animal Medicines Training and Regulatory Authority (AMTRA) Animal Health Advisor. Michaela trained as a 'worm counter' in 1999 and has worked both in Germany and the Netherlands as well as in the UK. She founded Wormcount.com Veterinary Laboratory in 2008. She has owned competitive riding horses all of her life, but she more recently has taken up carriage driving.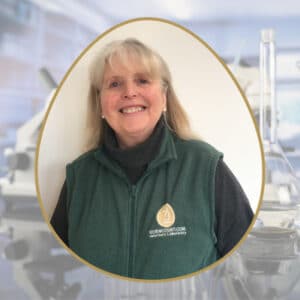 Biomedical Scientist and Analyst
Sue joined the team in March 2014, bringing 37 years' laboratory expertise as a Senior Biomedical Scientist in pathology. Her specialist activity as part of the Wormcount.com team is pathogenic parasitology. Sue is also our internal quality auditor and is an experienced NVQ trainer and assessor. When not in the lab, Sue can usually be found surrounded by her horse, dog and many chickens.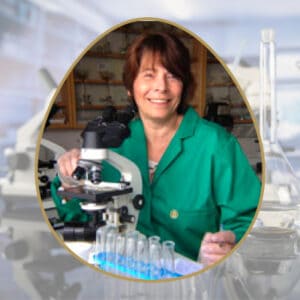 Andrew Fitzpatrick BSc (Hons), MSc, MIEnvSc
Andy is an analyst, undertaking tests and screens in the laboratory.  He holds both a Bachelors and Masters degree and already had several years of laboratory experience and qualifications prior to joining our team.  His particular interest in the lab is microscopy screening and interpretation. Outside of work, Andy's hobbies include rugby and spending time walking in the countryside with his wife and dogs.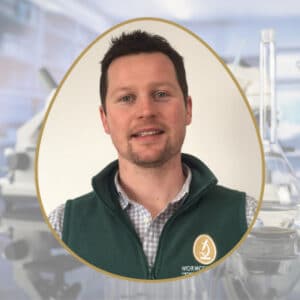 Lesley originally trained and worked as an accountant. Having accumulated a wealth of hands-on experience with horses, rabbits and reptiles over many years, Lesley saw the light and re-trained as an analyst. She joined Wormcount.com in 2013. In her leisure time, Lesley breeds and shows champion Bengal cats.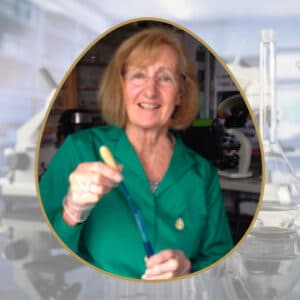 Charlotte Fitzpatrick BSc (Hons), FGS, MIEnvSc,
EA-SQP
Head of Clinical Communications
Charlotte graduated from university in 2012 with a Bachelor of Science Honours degree, and now manages our Clinical Communications team. As a Registered Animal Medicines Advisor, she is qualified to prescribe veterinary medicines in accordance with the Veterinary Medicines Regulations.  Her hobbies include hiking, rock climbing and looking after her (now retired) horse.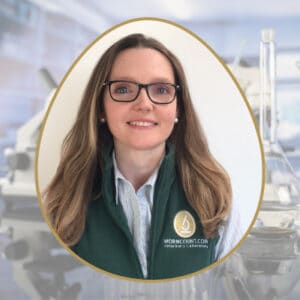 David heads our back-office team and is in charge of business development. With over 30 years' management experience in the public and private sectors, he has overall responsibility for corporate analysis and development– as well as making the tea!  When not at work, David's favourite pastime is watching (but no longer playing!) rugby.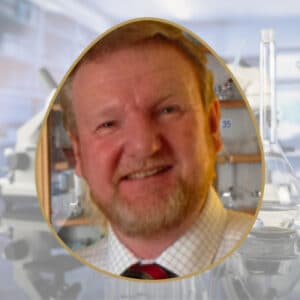 Lynn is a qualified farm secretary and now works in our administration team.  Her exceptional organisational skills and her keen eye for detail means that the office runs smoothly and we don't descend to chaos (too often)! Lynn's patience and approachability make her a great asset to the team.
Harry has a background in logistics and stockroom management and joined our team to use his skills to oversee the operation of our Dispatch Department.  With over 40 years in the industry, he is very experienced and practical.  When not at work, Harry enjoys watching Formula 1 and looking after his family's pet cats; Snowball and Baz.
Need to speak with Wormcount?
If you'd like to speak with one of the team click below, fill out your details and we will be back in touch
I have worked with the team at Wormcount.com for many years and have always found them to be very professional, caring and knowledgeable. They are always happy to give advice on all aspects of parasite control. The unique digestive analysis report which is part of their worm count service is extremely useful for animals fed on every type of food, but it is especially helpful for dogs transitioning to or being maintained on a raw diet.
Worm counts are a key element of proactive parasite control and Wormcount.com provides an excellent service. Their very detailed laboratory reports are an invaluable diagnostic tool for my holistic veterinary practice.
I find that the detailed reports I get from our reptile-owning clients who have used worm count specialists Wormcount.com for faecal screening are extremely useful in aiding diagnosis.
Wormcount.com is an essential tool for our preventative health protocol and holistic health plan. It's wonderful to be able to give our clients a choice to faecal egg count and avoid unnecessary drugs. The test kits are easy to use and results are very fast and easy to interpret. I can't imagine my practice without it!